Here's an addendum to the John Chapman interview, prompted by some exciting changes at his studio- the introduction of a new pattern and some production collaborations:
Q) My understanding is that the new Good Wear Imperial model design was a sort of collaboration between you and a Fedora Lounge/ Denimbro member, Handymike (Eric).
Have you worked with customers before in developing new patterns?
A) Yes. Eric really wanted that design, and I had the chance to handle and pattern an original back in 2008. I wasn't sure if I would copy it, because, as a size 46, it wasn't the best looking body pattern that I've ever handled, even though the details were great. I liked the idea, but with a body more like the Good Wear Ventura. So, after Eric waited through his line in the queue, I sat down and made a basic pattern of the Ventura, with only the most generic panels and converted that into the design of the Imperial. It was just by eye, and not based on the original I had handled back in 2008. I really like how it came out. The pockets were Eric's idea, and later models for the web site will have a slightly different main pocket. Yes, other customers have inspired me to go places I wouldn't have naturally gone: the A-1 and a new Californian pattern that you'll see below comes to mind.
Here's a new pattern, which is based on an original California Sportwear jacket that I've had since 2009, which my friend David Howell had traded to me for another jacket that I have. I've been meaning to copy this for years, but never got around to it, until a customer asked me to make a copy of the California Sportwear jacket that Bruce Willis wears in the movie Surrogates. He also asked two years ago when it placed his order, and now that his order is ready, I've built a test model based on the original jacket. I really like this design! I made the body a little longer than the original, and copied the back design that Willis' original has, which my jacket didn't have.
http://www.goodwearleather.com/cal_new_pattern/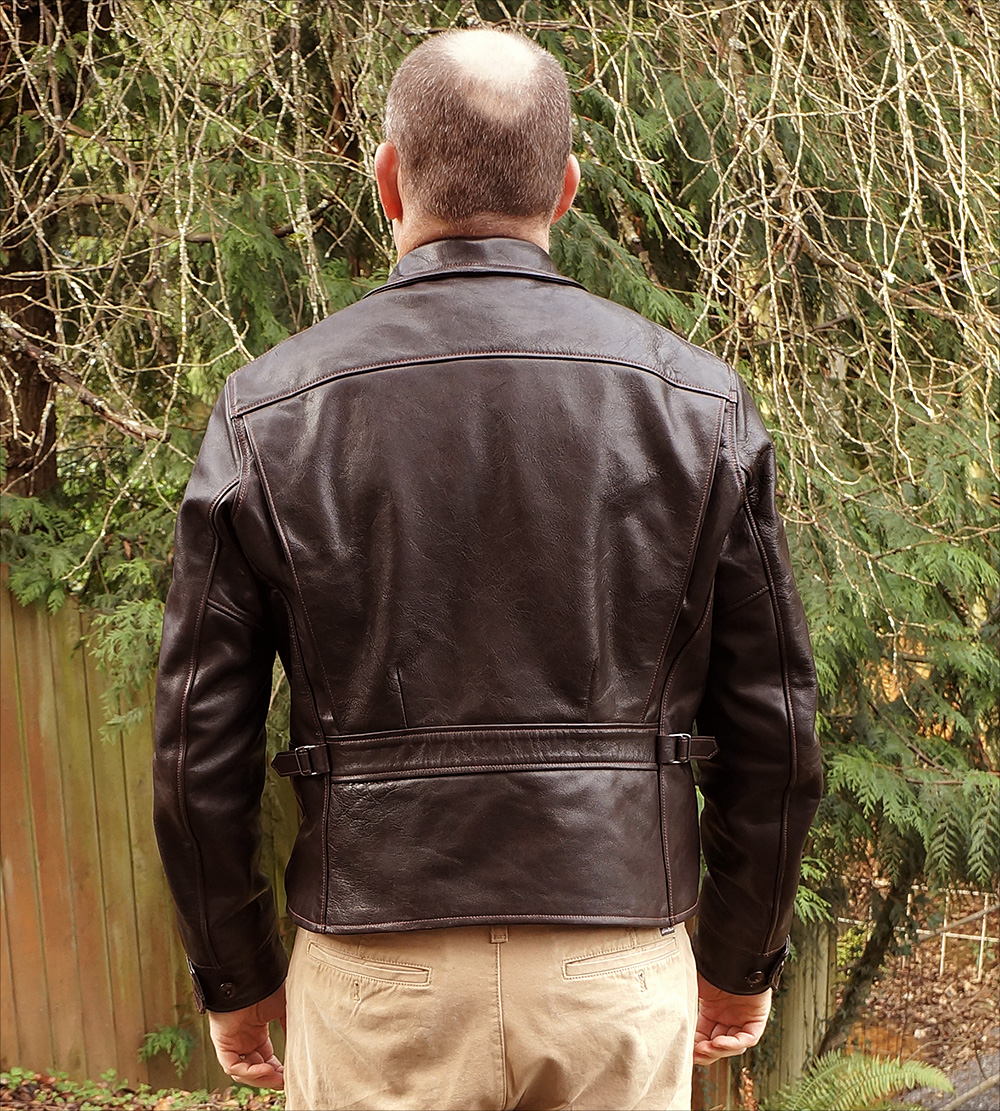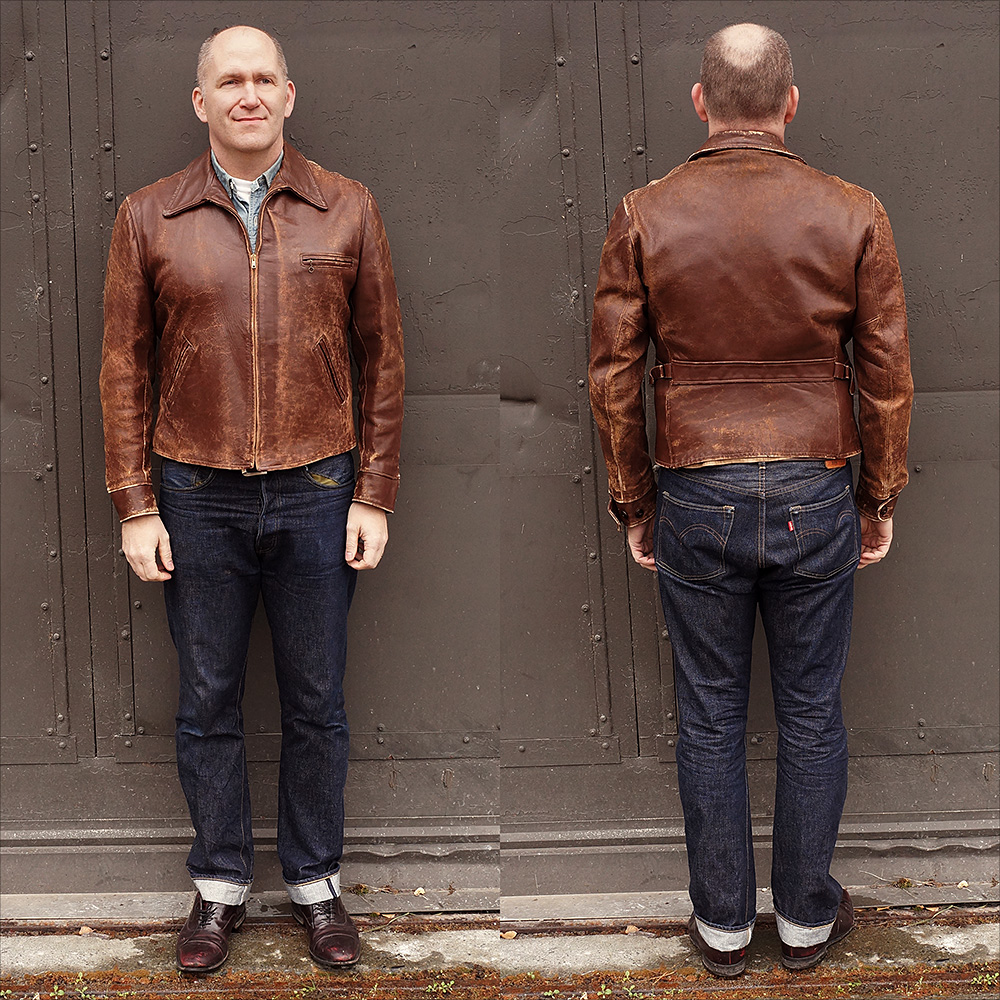 Q) the Imperial seems about as far as you could get from an A-2 in a leather jacket, design-wise. At least to a layman. How did you enjoy the experience of patterning such a structured jacket, in light of the "apparent" (I say delicately) simplicity of the A-2s that are your primary interest?
A) Every different pattern is a form of artwork, and has it's idiosyncrasies that make them so interesting. I love being able to do very differing designs. The A-2 and B-6 sheepskin jacket are about as far apart as possible, and both are so fun to make. The simplicity of the A-2 means that everything has to be almost perfect, or any flaws will show easily, while jackets with many more parts can be a bit more forgiving. But we try to make them all great. The actual patterning of a more complex jacket isn't nearly as hard as grading the pattern to different sizes. That is a huge amount of work.
Q) What is your take, now that you've made a couple of the Imperials, on their fit and wearability?
A) I think they're fantastic jackets that wear very well, especially being that the pattern is based on the Ventura. That design seems to work very well with the human frame.
Q: Are there any new leathers, or leather processing techniques, that you have recently started using?
A) I'm always looking for new sources of leather. I've been able to find a number of cowhide tanneries and one goatskin tannery that make superb leather. I like the grainy leather that will show age, and two versions of cowhide are superb, which you can see below: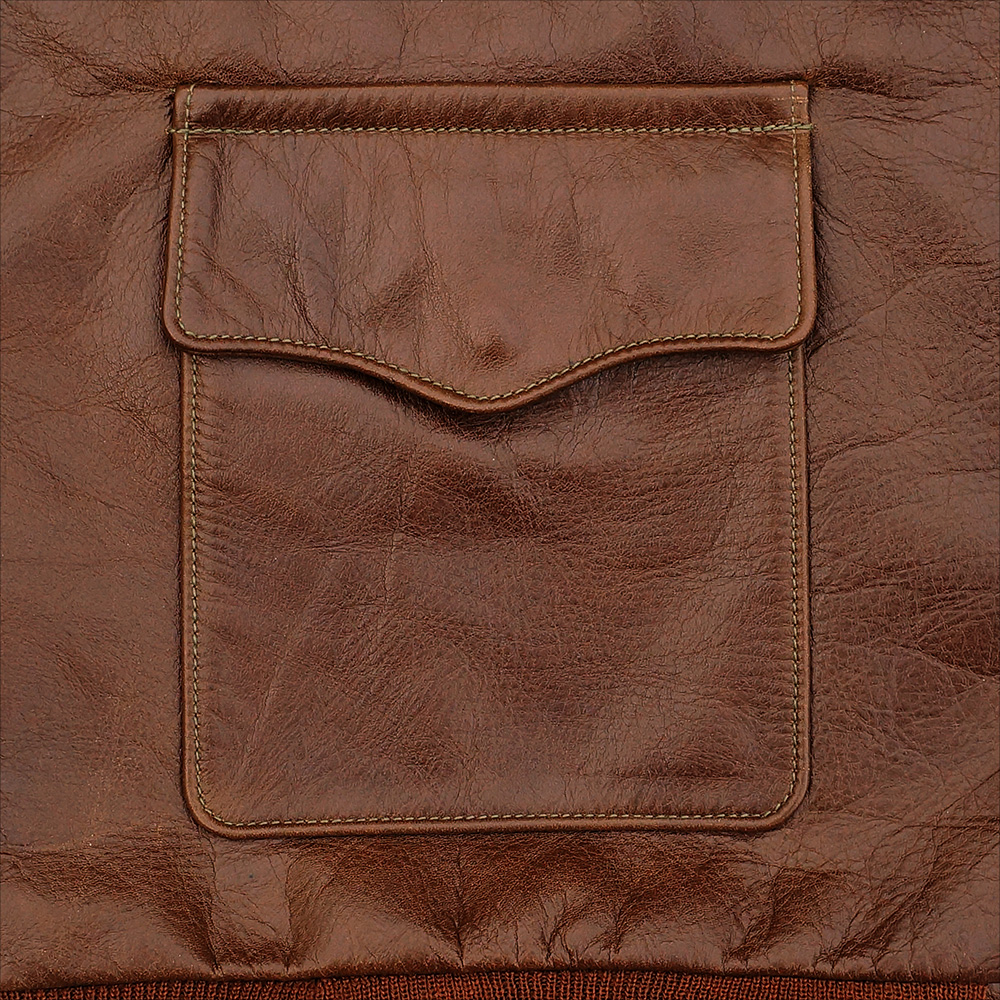 And the seal brown goatskin:
Q: last time we talked, you mentioned having some plans for a GW A-2 pattern to be produced outside of your studio by another manufacturer. Any news on this front?
A) I have been able to run with two sources. The first is David Howell, whom I've known and have been talking jacket construction for the last five years. He and I have had the idea of him making A-2s for a while, along with a catalog of other jackets that he makes, and in the last year, he has been sewing A-2s together to get the process down. Secondly, Ken Calder, of Aero Leather/Scotland has offered a line of A-2s that would be stock sizing as well. I've gotten five A-2s in the first round, and have them up on the site. And in the latest news, I've got an unannounced North American company that will be making Ventura jackets for me, and the results on the first one are fantastic. More on that soon, but here are some photos of that first one...
http://www.goodwearleather.com/ventura_horsehide/


Edited by mr randal - 14 Dec 2014 at 5:29pm